Article Image
Article Image
read
Where to begin…
So my friend had her own mens skincare company she set up, and it was amazing. The stuff she used was heavily researched and formulated, and was literally the only thing that kept my face from doing weird things when swapping back and fourth from the cool Santa Monica coastal air and the dry desert air of my Las Vegas home. It was a miracle for me. Sadly she sunset the brand. Right around the time I needed to find an alternative, some of my favorite YouTube channels were being bombarded with ad-buys for Geologie, a new mens skincare line built into a quarterly subscription service.
I said, what the heck, and filled out their basic form outlining what my needs were, and their tool built me a trial kit that they felt best suited my needs, and so I waited a week for it to arrive.
The trial they sent me came with a nicely laid out card explaining everything in it, what it does, the ingredients, and how to use it. It listed everything I got plus a 5th item, an eye cream. However, I had no eye cream in my trial kit, so I emailed customer service asking about it.
They responded the next day, informing me the card included with mine was a mistake, and that my trial kit should have no eye cream and to disregard that component. Trying to verify this online was hard, because when you sign up for a trial, you do not get an account with them, you have to make your online account separately and then link your oder to it after the fact. As a result the only "history" I had was an order confirmation email with no details on what was sent to me other than a "Regimen #5" which I could find no reference to or details on their site for (everything was grouped by a collection name, not a number).
I took them at face value however, (lol.. yay puns) and then as my trial 30 days wound down, was sufficiently not dissatisfied enough that I let it auto order for me my first full kit. (I will say however, it seems that my face is now TOO oily and I wanted to keep an eye on things and perhaps back off as the over-oiliness has exchanged dryness and occasional rosacea for breakouts). However I couldn't, even from their backend view of my newly created account, TRULY understand what was in my formal kit that would be coming and if it included the mysterious eye cream or not, once more their descriptions and information was very… inconsistent.
I was given an email that my order had shipped on July 22nd and was sent a tracking number. That night I checked it and the number still showed itself in that all too familiar state of "carrier waiting to receive package from shipper" that we all know and love.
Quite honestly, at that point, I forgot about it for a few days because I was on the road traveling, and when I got back home, 9 days later, I wondered why the box was not at home waiting for me, so I clicked the tracking link.
The status.. had not changed. It was still not in the hands of the carrier, DHL from the shipper.
I sent an email to customer service asking why this was, why after 9 days I still did not have the package and why the carrier had not taken posession of it yet.
The response I got was, uninspiring….
---
*Thanks for checking in. So I can see that we shipped your order on July 22 2022, so it's definitely on the way now and here's the link again to track it: https://webtrack.dhlglobalmail.com/?trackingnumber=420891XXXXXXXXXXXXXXXXXXX30821

We see many packages that look stuck in the system (often marked as "In Transit" or "Processing") that are in fact on the way and DO get delivered.

Here's what we should do: give it another few days for the tracking here to update. We'll check back in shortly and if the package still hasn't shown any sign of movement, we'll get you taken care of. All of our orders are automatically protected from loss in transit, damage, and theft at checkout, thanks to our partners at Route.

Sound good?
While this sounded like a brush off to me, I gave them a small benefit of the doubt and contacted DHL customer service, who unsurprisingly confirmed for me that the label had been created by Geologie on the 22nd but that they 100% had not taken possession of the parcel yet, and were waiting for Geologie to give it to them.
So, I emailed them back:
---
Why should I give it a few more days beyond the 10 I already have? It has already been 10 days since the status was last updated on the DHL system on the 22nd. I've spoken to them directly, and they've already told me they have not yet received the package from you. I don't understand why waiting a "few more days" would make any difference between then and now if the issue is on DHL's side, after it's already been 10 days of "DHL awaiting package" when that step is supposed to only take one to two days…
The response was…. yeah….
---
I've just checked with our warehouse and can confirm that your order is on its way to you.

Our nearby DHL hub has recently updated their package processing procedures, which has likely contributed to the delay in your order receiving its first update scan after shipment.

I'll continue to keep an eye on this over the next day or two for you and anticipate seeing an update to your tracking info shortly.
Now this is about as weasel-wordy as it gets…. Notice the careful choice of words allows them to both say "no, no, everything is fine trust us" and also, if they had generated a new order then and there and sent it out, that would have been also factually true without having to admit they actually did that or that there was an issue on their side. It was a deliberate choice to obfuscate the truth and as a result I take offense to the lack of transparency and dishonesty.
---
12 hours later, the tracking number MAGICALLY updated, and suddenly DHL had the package. in hand. What a coincidence.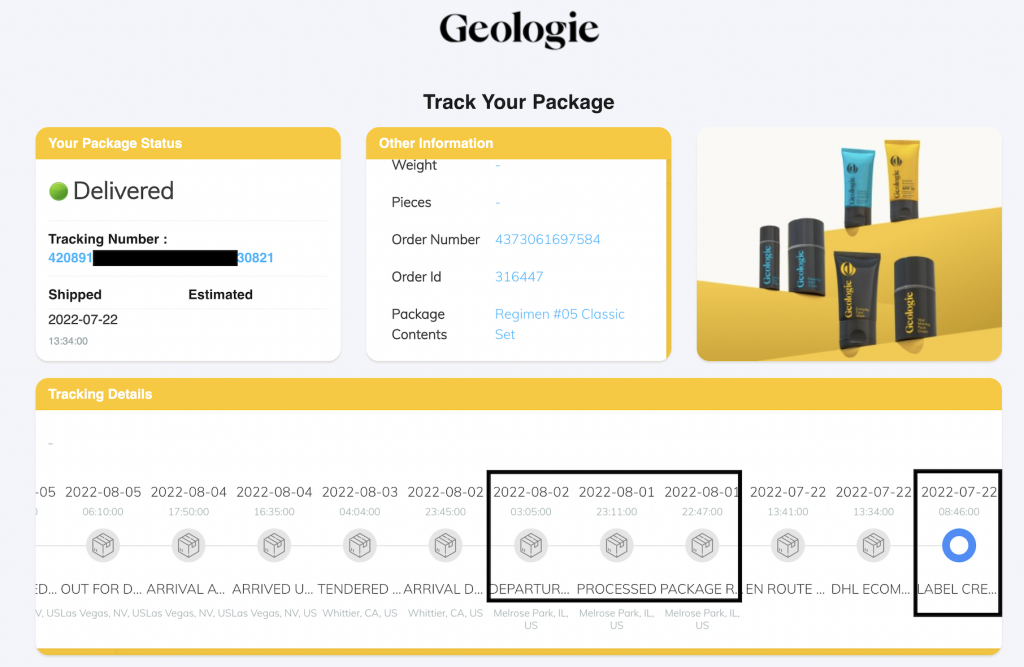 It has now arrived, 6 days after that. And guess what? There is no eye cream included in my regimen, as expected… but there is an ingredient list and instruction card for "#5" with formula details and instructions for the eye cream…
At this point, I have to assume they do not even remotely have their stuff together, as it were, and are just trying to pump these subscriptions out as fast as possible with quantity over quality, so I'm out. I canceled my future orders and will let them know why.