Article Image
Article Image
read
So, due to the new job (Oh… uh… I should make a post about that shouldn't I?) I am very much more-so a Digital Nomad now. As a result, I have refined my Everyday Carry items down to a science… and I figured I would share it as I know several of my friends are nerds about this kind of stuff.
I've roughly broken it down into 3 sections… my daily laptop bag and it's contents. The "Travel Mode" items that get swapped out/added when flying (which is almost weekly these days) and finally there are the "pocket items"… things that are on me personally, most of the time. (Truth be told they could be with the first group, but to be totally honest I forgot to include them until after I took the pics and packed everything back up…)
First up, we have the "pocket items":
Nothing too fancy here, just my day to day pocket items.. though the keys are often attached to an inside pocket of the bag via a carabiner.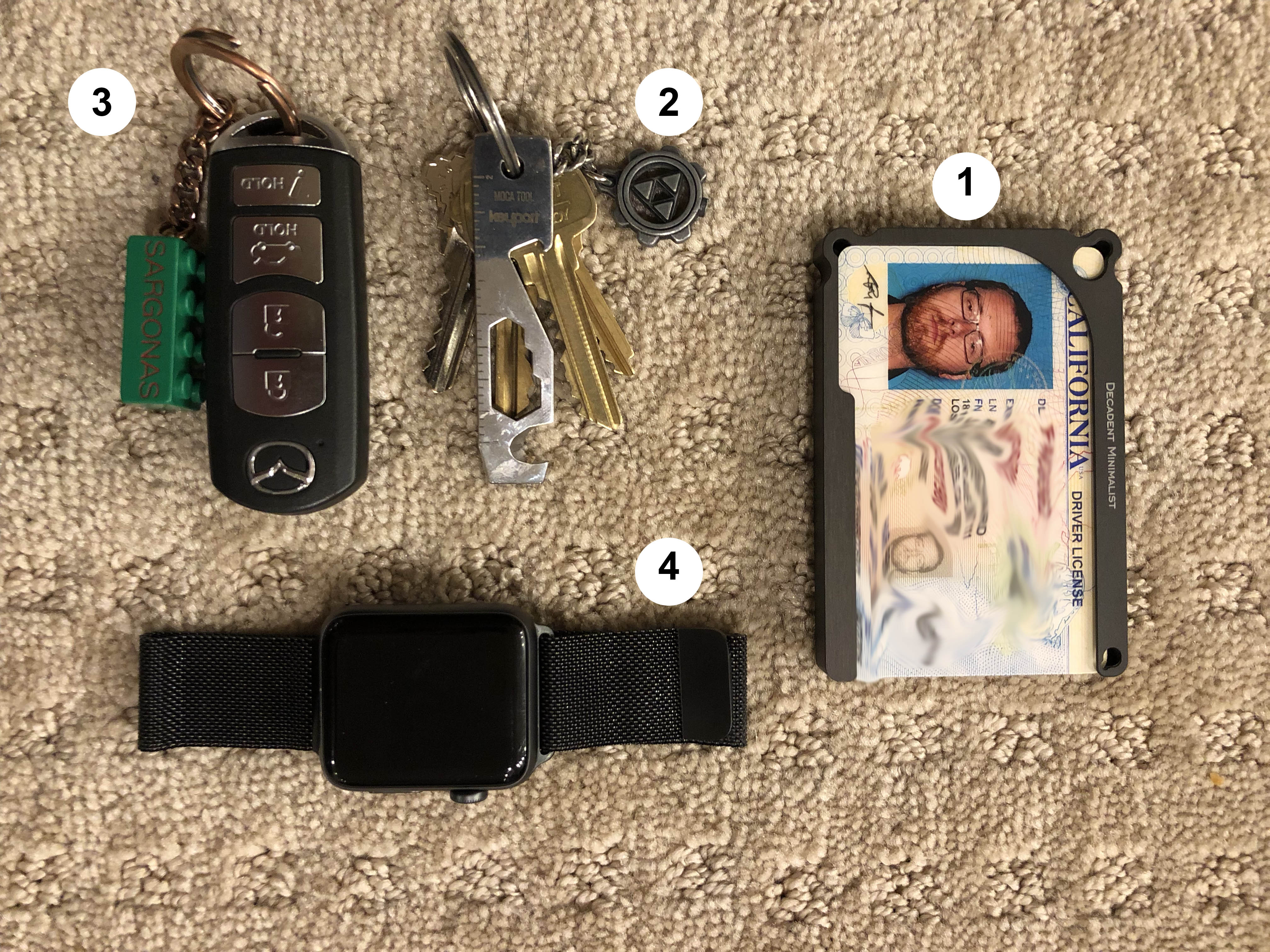 Decadent Minimalist Wallet
A piece of machined aluminum, it fits 8 cards that slide out easily as needed and snap back into place securely with an extremely satisfying "click". In the event I ever end up with some RFID cards in my set, I can always pop in special signal blocking cards on either side as well.
Key ring with a Keyport MOCA 10-1 tool
The MOCA tool has been ridiculously handy in the 2 months I've had it. The scoring blade has opened countless packaging tape on boxes, and it's easily opened it's fair share of bottle caps as well. 😉 (oh yeah, and it's TSA compliant!)
My Mazda3 Key-fob
Oh yeah, and the key-fob has a cute lego brick with my name on it, courtesy of the Girlfriend.
Apple Watch Series 2
It tells the time… and a few extra things… like hatching Pokemon eggs! 😉
Next up, we have "The Bag":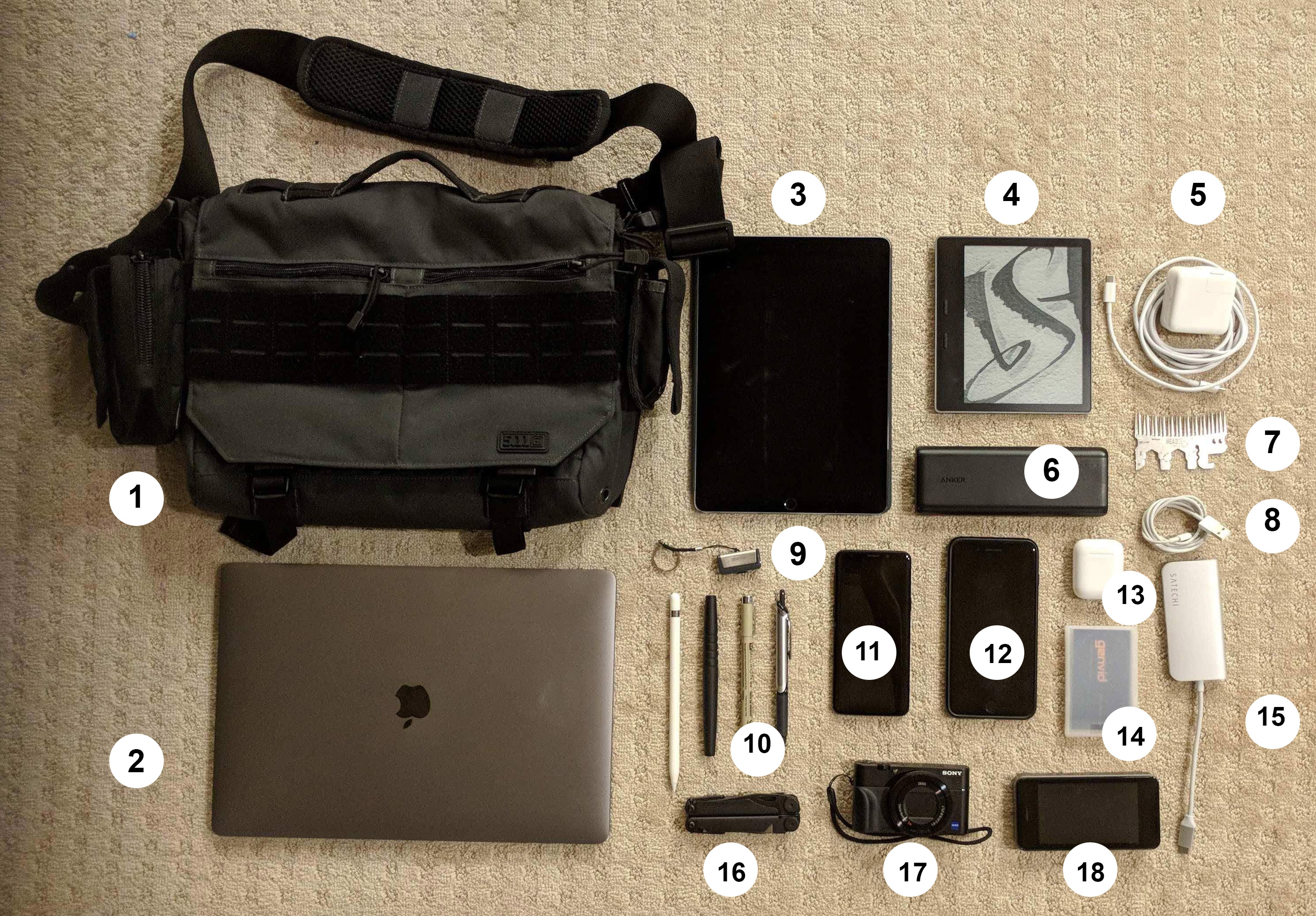 5.11 Tactical RUSH Delivery Mike Messenger bag
HOLY CRAP does this thing pack a LOT in a small space. I simply cannot suggest this bag enough to anyone! It comes in several sizes, but mine is the smallest of them. It barely snugly fits the MBP, but that's okay because it's so small and compact it's perfect for me for all uses, even when I don't want to carry a computer at all.
MacBook Pro 15″
Usual run-of-the-mill 15″ MacBook Pro. It's my work laptop, and squeezes in a bit of gaming when needed as well!
iPad Pro 9″
Slim and exceptionally powerful for it's form factor… acts as a great computer when I don't want to dig out the laptop.
Kindle Oasis
Slick little guy, small (fits perfectly in an outer pocket the same shape as it), water resistant, big screen, and carries everything I ever want to read on a seemingly-forever charge.
Apple USB-c charger and cable
Anker 26,800 mAh battery
This thing has STUPID capacity, it can fully recharge everything in this bag and then some, and snuggles down in the outer side pocket perfectly out of sight.
Hedgehog Zootility Tool
This little guys is awesome, it's a beard comb, phone kickstand, wrench, screwdriver, ruler, and several other things in one.. all the size of a business card.
iPhone USB cable
Sandisk USB 3.1/c hybrid 128gb thumb drive
128gb of storage with, a slider switch that extends a 3.1 USB plug on one side, and a USB-c on the other!
iPad stylus, Nexus Minimal Fountain Pen, fine tipped marker, and roller-ball pen
The stylus is self explanatory. The fountain pen is my sexy, single-piece, machined aluminum go-to writing tool but I don't trust strangers with the nib, hence the roller-ball. The extra fine marker comes in quite handy from time to time, sometimes interchanged with a fine sharpie.
Business card holder
Kind of self explanatory, eh?
Satechi USB-c Hub
HDMI, 3 Usb 3.1 ports, ethernet, memory card readers, though power USB-c, all in a portable hub, I love this thing!
Leatherman Wave Multiool
LOVE. THIS. TOOL! It lives in a MOLLE pouch on the outer side of the bag, though I take it out when flying. Seriously, if you don't own a multitool, you want this one. I won't list all it's features here, just click the link to see for yourself and then buy one.
Sony RX100 Mk 5
I churned hard out of photography and I greatly regret it, but my hope is that by carrying this BEAST of a point and shoot, I will be encouraged to shoot more and get back into it. Thanks to it's small portability, powerful sensor and optics, and Wi-Fi communications to my phone… so far it's working! He lives in a little MOLLE pouch on the opposite side of the bag from the Multitool.
GlocalMe Pocket Wi-Fi
This guy is great. He has his own cloud services with comparable daily rates to other big named Wi-Fi devices for when I'm traveling, but it *also* also has a Dual-SIM card slot. This way I can keep a Verizon sim in him to share in my phones domestic data plan, as well as popping in a foreign SIM when I am going to be out of the country for more than a day or two (cheaper than using the service usually). As a professional road warrior, he's a must-have.
All packed up, it makes for a snug but awesome fit in the bag: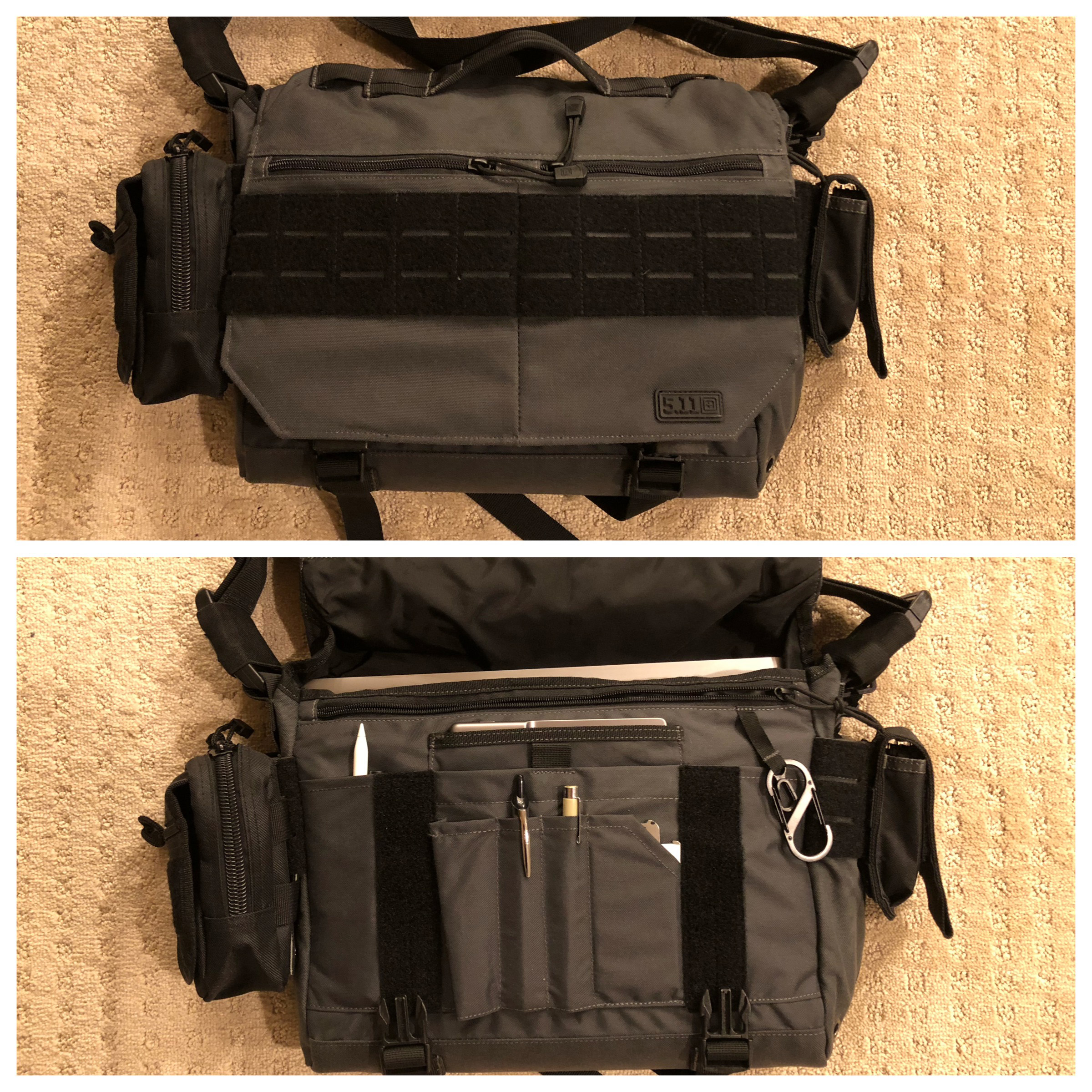 Lastly we have the "Modular" stuff:
These are things that are added or swapped out for stuff in the bag when I am on the road traveling away from home: