Article Image
Article Image
read
If this is not your first time reading my rants, you will remember my saga from 2018 when UPS lost a shipment of wine of mine: https://sargonas.com/ups-seems-to-have-lost-my-wine-and-doesnt-want-to-tell-me/
Well flash forward to this year, and the hits just keep on coming!
First off, I've spent the last month chasing around a missing work package. We shipped several thousands of dollars of gear from one office to another and they keep saying it was damaged, no wait lost, no.. damaged, wait no now it's lost… or maybe damaged? No definitely lost. Still working to get a claim on that one complete after 11 phone calls and 4 hours on the phone, but it's not my money so I'm TRYING to remain calm, despite being jerked around so much and never getting a single call back or email that was promised and having to chase them down regularly.
That aside, now they are jerking me around on my iPhone as well.
On Friday they marked it as undeliverable to my apt even though they never paged me via the call box and my unit's ring door bell never rang.
I didn't want to deal with more drama again so I immediately paid money to them on Friday night to have the package re-routed to a local UPS store to make this easier. Annoyingly, the entire weekend it said "re-delivery accepted, please check back later for a new delivery window". I had hoped it would be a Saturday sort of thing, but, oh well.
On Monday AM I was notified it would arrive by EOD that day at said UPS store.
The UPS store ONLY gets deliveries around 9-10am according to it's manager, and pickups are at EOD around 6. So at noon it was not yet delivered but I checked anyway, and the manager was quite adamant to me there was no way a delivery was coming later in the day, as he knows his drivers and their routes intimately. He said if it had not yet arrived then it would likely be Tuesday. Frustrated, I called UPS support to complain and they insisted it might still come that day, but that if not they assured me it would definitely arrive on tuesday in the AM. I was promised a call back within the hour either way once the local operations center had the case.
Unsurprisingly, I did not get a call (I am 16 for 16 on NOT getting callbacks "within the hour" from UPS after being promised one over the last 2 years.)
At 6:15pm with 15 minutes left to go before the store closed, the package updated to a new state of "undeliverable. Delivery to be reattempted next business day. Delivery by 10:30 am Tuesday".
I again called support in frustration and was told "the driver apparently flagged it as undeliverable tonight, and they will try again tomorrow. They understand my frustration and have sent a notice the local dispatch and I will get a call back within the hour."
Sure I will…. (I didn't.. of course)
This morning I watched it closely so I would know when to walk over to get it, and at 10:25am it updated to
"Address Information Required
The shipping address provided is either incorrect or incomplete. "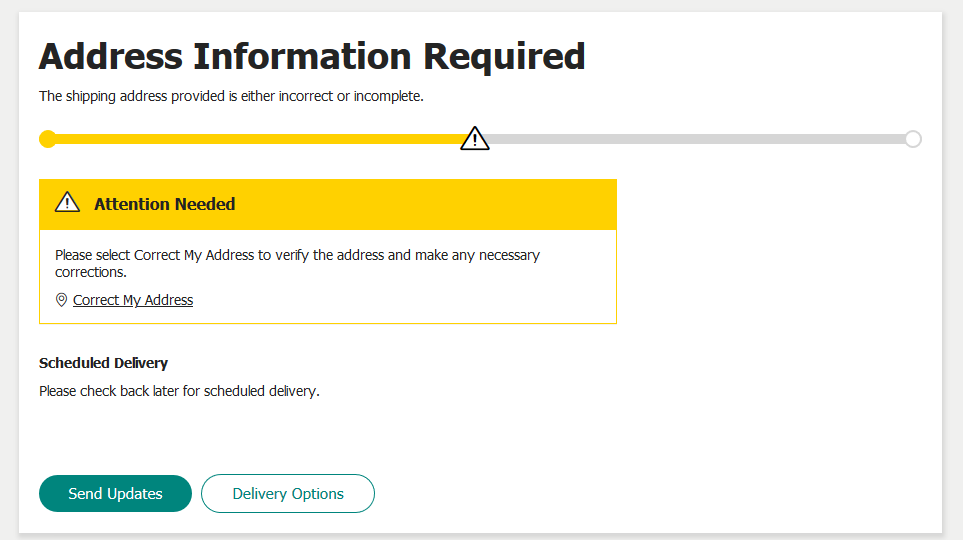 Bear in mind I played no part in specifying the UPS store's address… it was pre-filled by the UPS site when I selected "deliver to a store" as an option to re-route it and picked this location from the drop down. How on earth could the address in their system for one of the busier UPS locations in the area be WRONG?
I looked it up… it's not.
It told me to "click here to correct my address" so I did, and I got an error message that "Changes are not eligible for this shipment. Please contact support."
So I just got off the phone with support and am now told that I don't need to update the address, as it's seemingly correct.. and that they don't know why it's in this state but that.. "someone from local dispatch will call me within the hour to explore options to get it to me as soon as possible"
Sure they will. Sure they will…
UPS is the worst… and I just want my damned iPhone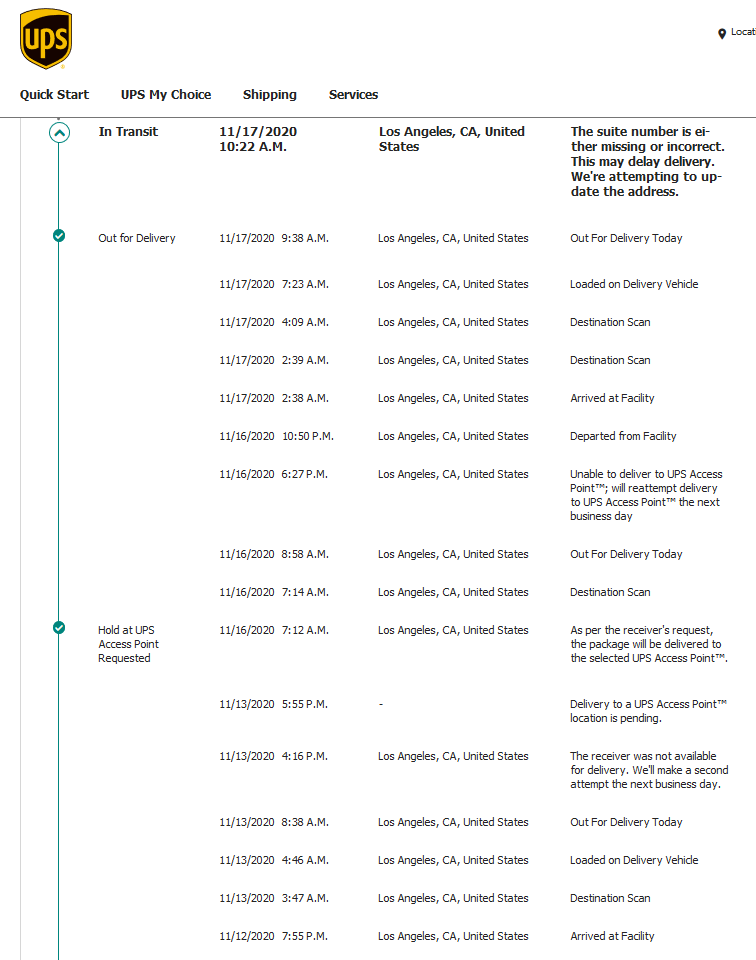 EDIT: Well, I have my iPhone! At the 1 hour mark with no call I resigned myself to calling UPS every single hour once the window closed, untill I got clarity. So I called back and while the nice lady was helping track down a human in real time who can help locally rather than make me wait, we both got a notification at the same time that it had just been delivered. I thanked her and hopped off the phone and ran over to the UPS store to get it and sure enough it was there. Best part? The store manager says a regular driver did not drop it off… but that someone in a UPS polo and jeans with an employee lanyard pulled up in a car and brought it in just moments ago.